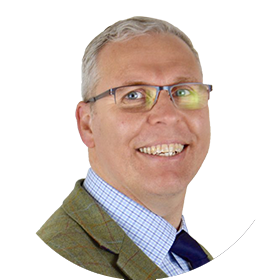 "As an accountant you are in a position to make a tangible difference to a client's organisation, driving change through the advice you provide. It is hugely rewarding to observe a business you have been working with develop into a thriving venture."
Ian Barber qualified as a Chartered Accountant in 1996 and throughout his career has amassed a variety of experience within the accountancy sector, including the establishment of his own practice. Ian's focus is on providing clients with accountancy and taxation advice that, when combined with an in-depth knowledge of their organisation, enables them to add value to their business and confidently plan for the future.
NAME shares their views on..

How did you get into what you do today?

It was whilst I was studying for my degree at University that I took my first steps into accountancy, undertaking work experience for a local firm during the holidays which eventually led to a permanent position. I worked for a large accountancy firm for 12 years, before making a move into industry as a Financial Controller. Industry opened up a new outlook on accountancy, enabling me to perceptively help businesses, having been in their position. I set up my own accountancy practice in 2005, which then went on to become the M+A Partners (North Norfolk) Ltd joint venture with MA Partners LLP in 2010, joining the LLP in full in 2018.

What was your first ever job?

I started in the same trade as many young people do when they look to start earning their own money – in the hospitality industry. I had a number of holiday jobs, after leaving school and during University, in local pubs and hotels. The unsociable hours certainly instilled a good work ethic in me! Work experience eventually led me down accountancy road, and I was then lucky enough to be offered a permanent position and training contract.

What do you love most about your job?

It has to be working with like-minded people from all sorts of different backgrounds and sectors. It is so interesting to meet with my clients, each one with their own unique story, and discover how their business is running, and how we can help it grow. There is always a new challenge, but often it is how these challenges can be overcome that brings the greatest job satisfaction.

What does it actually mean to be an accountant?

Accountancy really isn't just numbers, it is being able to effectively communicate to clients, working together to achieve a shared objective, devising strategy and solving problems. There is huge variety working in an accountancy firm and there is always room for change or something new – there's no such thing as a typical day! You work with diverse clients across sectors such as agriculture and manufacturing through to tourism, leisure and education, whilst also managing the requirements of sole traders, partnerships and limited companies.

What are you most proud of?

It has to be starting my own accountancy practice from nothing and then seeing it grow to become part of MA Partners LLP, with myself as a Partner. On a personal front it would be my wife (who also works in the firm), my son and our dog – a beagle named Syke.

What is the top thing on your bucket list?

I thoroughly enjoy running in my spare time and was hugely lucky to be able to take part in, and finish, the London Marathon in 2017 – so the top thing on my bucket list has been ticked off.

What made you join the People Kit?

The People Kit is a knowledgeable group of professionals from various sectors that enable me to add value to my clients by recommending other services that they may require.

What do you feel are the benefits to companies or individuals about using The People Kit?

Each of the services offered by The People Kit has an experienced individual behind it, giving the reassurance of an approachable point of contact and the confidence that they will achieve the results they are looking for. It is an ideal way for businesses, large and small, to cost-effectively outsource work to experts in their field.

Who do you work most closely with in The People Kit?

I regularly work with Pippa at Norwich Print Solutions and I also hope to work more closely with Jonathan from Loveday and Partners, as the nature of our businesses is complementary.
You can contact Ian on 01263 513971 or by using the form below.