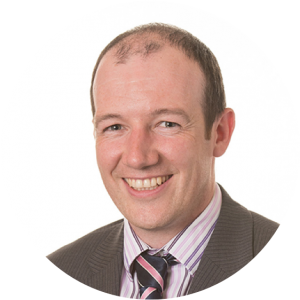 "A lot of my work is relationship building. People are more likely to be honest and upfront with you if you build a good rapport with them."
Gareth Stevens is an associate within the Employment Team at Leathes Prior Solicitors, advising on all aspects of employment law. His clients rely on his personable, down-to-earth approach just as much as his knowledge and expertise.
Gareth normally charges for a chat, but you can have this one for free…

What was your first ever job?

My first ever job was working in an envelope factory. My uncle was floor manager and it used to be a regular school holiday job. They liked me because I was very organised and tidy, and I used to go in and sort out their mess! I got lots of paper cuts but I now know all the different sizes of envelopes and I could tell you all about how an envelope is made!

When did you first become interested in law?

It was when I was still at school. It was seen as a good career choice and my parents said to me that I should think about it. I looked into it a little bit more and saw some of the areas that looked quite interesting.
Often it's criminal law that draws you in but the further you go in your career, the less appealing criminal law gets. I was told in law school that the reality of it, for example, is that you end up dealing with a drunk on Prince of Wales Road who's been locked up at 2am on a Sunday morning, and to get any information out of them you have to bring a packet of cigarettes with you! After I'd heard that, I wasn't so keen on criminal law.

So, was it clear early on that you wanted to go into employment law?

No, not really. At law school I did my training in lots of different areas, and initially went to work in a law firm as a paralegal and was doing personal injury work, which was interesting but very process driven – plus you tend to get the 'ambulance chaser' tag which wasn't really what I went into law for. But then I got a training contract, and a seat in employment law and I really enjoyed it, and liked helping people. Then I qualified straight into that seat because there was a vacancy – and I've not looked back since.

How long have you been practicing employment law?

I qualified in 2007, so coming up for a decade. I joined Leathes Prior in February 2016 – I'd been at Clapham & Collinge previously for four years. My wife and I relocated to East Anglia around five years ago, from York, for her job – she's a teacher. We love East Anglia, and my accent's disappearing slowly!

What do you love most about your job?

Helping people. Dealing with difficult situations. People normally come and see me when they've got a problem. It's great if they come and see me before they've got a problem and they want to set things up so they avoid those problems – but actually we're problem solvers really. And I can help them through from the start to the finish and hopefully get a positive result for them.
One of the questions I ask people is "What do you want to achieve?" and if we can get as near to that as we can, that's a great result.

Are you trained to deal with people in a certain way or do you just develop your own way of working with people?

You do learn about how to interview people as part of your training but ultimately you develop your own style. Because I'm helping people, a lot of my work is relationship building, not just telling them legal jargon. I work with Mary from The People Kit, and she tells people "You'll go and meet Gareth and you won't think he's a solicitor." People are more likely to be honest and upfront with you if you build a good rapport with them.

What's the most challenging part of your job?

One of the most challenging aspects of my job is that things can change very quickly because you're in situation where there are two sides. So you've got to be flexible and your client has to be flexible, and you have to adapt as things progress. That's where my experience comes in, because I can know with a given situation what the likely outcomes are going to be, and give the client reasonable expectations.

Who do you work most closely with in The People Kit?

Mary and I have crossover in relation to the clients we work with. Obviously, I deal with the employment law side and Mary deals with the HR side. Mary might refer clients to me and vice versa.
For example, if I have clients who are companies that are having difficulties with things like disciplinaries or grievances, what Mary's great at is being able to go in, sit down and deal with those situations. I can advise in the background but we don't generally go in and handle those meetings, we use Mary.
I've also been on hand to give Mary legal guidance when she needs to advise her clients, and sometimes she sends her clients on to me if they need more detailed legal advice.
I've worked with Jason as well with regards to recruitment, and we play golf together so I know him quite well.

What are you most looking forward to about working with The People Kit?

I think it's all about offering a co-ordinated approach, so clients know they're getting people who all think in a similar way and have the same values. We all want to do what's best for them. And we're not over-the-top corporate – we will aim to offer a more personal approach.
I'm also looking forward to being involved with a group that is very much about supporting each other. You go to some networking events and groups and feel that you're supposed to refer business to people without really knowing them. Also, With The People Kit, everyone has already worked with at least one other person in the group, so there's a genuine trust there.

Can you name the top two things on your bucket list?

Well I've already ticked off one, which was a trip to New Zealand. It was an unbelievable experience. Amazing scenery. It's got everything – you can ski in the winter, do watersports in the summer. And it's warm!
The other thing that's definitely on my bucket list is to play golf at Augusta National Golf Club.
You can contact
Gareth Stevens
 on
01603 281159
 or by using the form below.