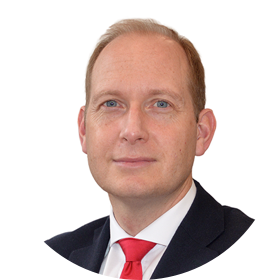 Loveday & Partners Financial Advisers
"I love providing trusted financial advice and help with strategies for retirement planning such as pensions, investments solutions which includes ISAs as well as long-term care or Inheritance planning."
Jonathan Briggs has a broad business background as well as exceptional client service skills, which are invaluable when it comes to relating to his clients. He's an Associate and Financial Adviser at Loveday & Partners.
An interview with Jonathan
From managing Norfolk's own Jurassic Park to studying the words of Einstein, find out how Jonathan's varied background has made him the expert financial adviser he is today.

What did you do before you moved into financial advice, and how does it compare?

Before working in financial services I spent ten years running the family business, The Dinosaur Adventure Park and Weston Park Golf Club. Following the sale of the business, I moved into professional services with some of the biggest local names in law and accountancy.
Financial planning is very similar in that you need to understand your clients' wants and needs in financial terms. I think this experience makes me a better adviser – especially when it comes to an area such as tax or pension planning. I can spot opportunities and that helps me build trust and credibility with my clients.

What are you most looking forward to about being part of The People Kit?

Clients often ask me things that are outside of my remit. As their trusted adviser they look to me for help, and I've always been someone who likes to solve problems. So having other trusted people to work with, with similar values and beliefs, is really useful.

What's the best bit of financial advice you've ever received?

Hmm… it's not so much advice, but a quote. Einstein said, "Compound interest is the eighth wonder of the world. He who understands it, earns it. He who doesn't, pays it."
A simplified example would be that if someone saves from the age of 21 to 30 then stops, they'd be likely to have a bigger pension than a saver who starts at 30 and stops at 70.

What's the most common thing clients come to you about?

I'd say there are two main areas.
The first is knowing what to do with their money. It might have come from a pay rise, inheritance, as a gift, from a divorce or selling a property. People are naturally cautious and having acquired some money, they want to make sure they get really good advice as to what to do with it.
The second thing is pension reviews. It can be anything from consolidating different pension schemes to just making sure they have enough for retirement, so they don't have to take a pay cut when they stop working.

Who do you work most closely with in The People Kit?

I've worked with Jason before. In fact, he got me my first job after we sold the family business. It was a maternity cover contract with a prestigious local law firm. Jason was able to get past the fact I didn't have a 'typical' career path and saw the strengths I had to offer.
Pippa has also offered me friendly and proactive advice – her printing business will always go the extra mile so I love working with them.
And Gareth at Leathes Prior. I have many contacts at Leathes Prior and have used them personally.

What makes you different to other financial advisers?

Face time with our clients. We're relationship driven, so we usually meet our clients face-to-face three times a year. It's because we believe you have to know and understand your clients in order to give the best advice.
Our business model is different and our clients seem to love it. We're on hand if they need us, but we're proactive and always have their best interests at heart.
Pippa has also offered me friendly and proactive advice – her printing business will always go the extra mile so I love working with them.
And Gareth at Leathes Prior. I have many contacts at Leathes Prior and have used them personally.

How do you keep up-to-speed with changing financial regulations?

There's a lot of change at the moment, particularly with pensions and ISAs.
Because we're regulated we have to do 35 hours of continual professional development each year, which keeps my knowledge fresh. But I usually do more, because I like to challenge myself to take an exam each year.

What's the most rewarding part of your job?

That's easy – my clients! The wonderful feedback they give after our review meetings makes it all worthwhile.
I'm fortunate in that I can choose who I want to work with, so my clients are really important to me. I've met potential clients in the past with wonky moral compasses, and I'm pleased that I'm not in a position where I've had to work with them!
I also enjoy mixing within the business community and attending events. You get to meet really interesting people, and get to know yourself better too.

What do you like doing outside of work?

I have two teenage children, so I'm often running around after them. I also love cycling, which I'd say is my main hobby.

What made you join The People Kit?

It was an introduction by my friend Pippa; she approached me and said there was a group forming and they were looking for likeminded people they could trust, would I be happy to meet for a coffee and have a chat. What made me join the group was primarily Pips. I trust her judgement and she felt it would be good for me. As I found out more, I discovered I knew, or had connections with other members. This made it a no-brainer for me.

What do you feel are the benefits to companies or individuals about using The People Kit?

If you get on with one of us and use our services then you are very likely to be a good fit with any of the other members of the group. So if you need help, this saves you having to search around – there will be someone in 'the kit' who can help. We all do it when we might need something personally – we look to our friends for advice or a referral. This is a professional version of this.

Who do you work most closely with in The People Kit?

It will be Pippa, and that is because the relationship was there previously. The work she does is fantastic.
You can contact Jonathan Briggs on 01603 431740 or by using the form below.