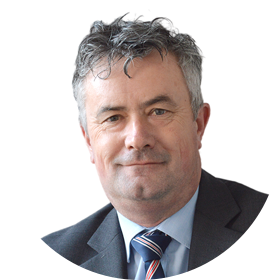 "It's important to use common sense to strike a balance. There's no point overloading businesses with paperwork and additional tasks they don't need to do – keeping health and safety simple is the best way forward for everyone."
David Field has over 25 years' experience in health and safety consultancy and training, and has been part of the Milne Safety team since 1987. He specialises in COSHH, but has a wide range of knowledge and qualifications in all areas of health and safety.
From teaching nuns about manual handling to securing the stands for some of the world's biggest public events, discover why health and safety is more exciting than it sounds.

How would you describe your job to someone who's never heard of it before?

That's a tough one!
I think the best way of describing health and safety is making sure that after someone's finished work, they go home in the same physical condition as when they started.
Some people assume it's a boring job, but it's essential – you're dealing with people's lives and livelihoods.

How did Milne Safety get its name?

My dad started the company in 1978 and Milne was my mother's maiden name, so that's where it came from. He just wanted something a bit different!

How did you end up specialising in health and safety?

I actually trained as a chef at college. I did a few years in the catering trade – I was OK, but no Jamie Oliver! I then went on to work at the front of house for a few different hotels.
I took a job at a hotel in Barnham Broom where I already played golf, and they even offered me a golf package as part of the role. When they realised I had good communication skills, they offered me the chance to take a training qualification. I thought it was a great opportunity, not really knowing what it would lead to.
At the same time my dad was really busy with his business, but didn't have enough time to dedicate to the industrial chemicals side of things. So I joined and took over running that part of Milne Safety.
It all went on from there – I got more qualifications as regulations changed over the years and the business got bigger and bigger. Now I'm dedicated to the safety side of the business, but as a company director, I get to oversee everything.

What's the most rewarding part of your job?

I like the challenge of helping our clients achieve a safer working environment.
And also the variety. We deal with so many different types of organisations, from waste management services, to engineering firms and hairdressing salons.
I even got to work for BMW during the 2012 Olympic Games. They built a glass structure over the River Lea and I spent two days helping them with health and safety for that.

I love getting to go to lots of different places for work, but I guess the downside is that it's not always to the cleanest environment. When I visit waste management or engineering sites I have to be careful where I put my hands!

What made you decide to join The People Kit?

Mary works as our HR consultant, so she approached me about joining The People Kit.
Clients are always asking where they can get help with different services and we pride ourselves on being able to provide solutions, so having a network of people on hand is ideal.

Who do you work most closely with in The People Kit?

Myself and Mary have passed a few referrals to each other which have worked out really well.
I think I'll also work quite closely with Rachel, because there's a clear link between what we do at Milne Safety and occupational health.

You specialise in COSHH – what does that cover?

COSHH looks at the Control of Substances Hazardous to Health. Businesses where employees work with hazardous substances legally have to carry out assessments, and we help with that.
So for example, we work with timber mills that generate lots of sawdust, engineers who use oil and grease, industries producing gases or vapours, and all sorts of businesses using cleaning materials.

They range from small to large businesses. The smallest has just half a dozen employees.
We've worked with BMW, Harley-Davidson and Porsche. I work for an events company called TRO, getting involved with things like the stands at Latitude Festival. I've also really enjoyed working at the Goodwood Festival of Speed for the last few years.
The most unusual client was probably when I did some manual handling techniques training with a group of nuns!

How do you make health and safety fun and interesting to keep people engaged?

You can't really make it fun, but it's important to use common sense to strike a balance. There's no point overloading businesses with paperwork and additional tasks they don't need to do – keeping health and safety simple is the best way forward for everyone.

What do you like doing when you're not working?

Apart from spending time with my family, the biggest thing I do outside of work is play golf.
You can contact
David Field
 on
07957 316064
 or by using the form below.