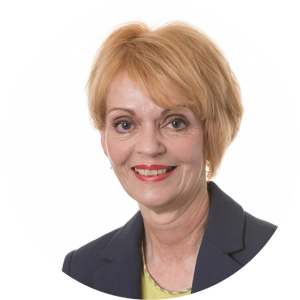 Mary McGivern HR Consultancy
"You can't apply the same thing to two different people, or judge a situation by what you did last time because it won't always work."
Mary McGivern is an HR consultant who works with SMEs to help them remain people-focused. She works to improve employee relations and facilitate change management, and helps companies manage any other HR challenges they may face. The People Kit was Mary's brainchild and she's one of the sharpest tools in the box.
A chat with Mary is always valuable. Here, she shares a little about her background, her way of working, and how not to jump out of a plane…

When did you first realise you wanted to get into HR?

When I went to work for a company called Anglia Canners in King's Lynn. I went there as secretary to the operations director and assistant to the personnel officer. Yes, that was all one job title! It would be called a 'P.A.' nowadays.
I soon realised which bit of the job I liked the most – and it was the personnel side of things – now known as HR. I just lapped it up! I'd never known what it was like to really enjoy your job – and I did.
They were really good to me. They provided training for me and treated me well. And when the personnel officer left her role, I got the job and it went from there.

What do you love most about your job?

I just love working with people, and people are complex. You can't apply the same thing to two different people, or judge a situation by what you did last time because it won't always work.
I enjoy the challenge of not really knowing what I'm going into, what support they're going to need and what knowledge – my knowledge – they're going to need. But I know that I will be able to help them and support them. And I know that there's going to be a positive difference to their business once I've done my job.

When did you decide you were going to go solo, and what made you decide that?

I wasn't very happy at work where I was and somebody I knew had gone solo – Jason in fact, from The People Kit, and he was doing well. Then, a guy who had left the company I was working for to work with a supplier, occasionally came back and we would talk about work. And in the end he said to me, "Jack it in and come and work for me. But you'd have to be self-employed. I can give you a project that will last a year." So that's what I did.
He worked for Heatrod which makes heating elements. They were taking over a small company just outside Great Yarmouth and they needed someone to project manage it – someone with HR experience who could manage all the complex stuff that goes with it. So that's how my business started.

Is the reality of your job different to what people expect?

People sometimes think HR is getting a company's contracts right and getting their handbooks right. And yes, that's part of it, but from that comes the stuff I like doing – the people stuff. I like to believe that my expertise is within employee relations and that's where I get most of my work.
Every job is different so in the end it comes down to what each individual client requires. Of course, I do put together contracts and handbooks. But you'll also find me working closely with the company directors to put a workable and effective HR strategy in place.

Who do you work most closely with in The People Kit?

I work very closely with Gareth, as the work I do involves a lot of employment law and I often need a backup. So if things are getting a bit tricky, we need the good sound advice of a good employment lawyer.
With Jason it's recruitment, so I can help with interviews. And I also work with Rachel, as occupational health is coming to the fore more and more, with long-term absences and sickness issues needing professional advice.

What was your first ever job?

I was an admin clerk in a company that did damp courses in houses. It was deadly.

You're a big Norwich City fan. What's your favourite ever NCFC moment?

In the recent past, the best thing was going to Wembley to the play-off final with my dear friend Andy. We had a fabulous day. I've loved watching Norwich play ever since my dad took me for the first time when I was eight years old. It's in my blood!

What's the scariest thing you've ever done?

I jumped out of plane for charity. Thankfully I was strapped to someone else. But when he shouted in my ear, "Look at that scenery, isn't it wonderful," I didn't have a clue because I kept my eyes closed the whole time. I don't regret it for one second but I will not be doing it again. I was absolutely terrified. But I raised £1,000 for The Big C.

What are you most looking forward to about working with The People Kit?

I just think it's a great idea. The biggest thing for me is that I work with all these people and I absolutely trust all these people, and I can hand on my heart recommend every single person in the kit to any client, as I hope they would recommend me. And that's what I think makes it work so well.
You can contact Mary McGivern on 07785 900086 or by using the form below.