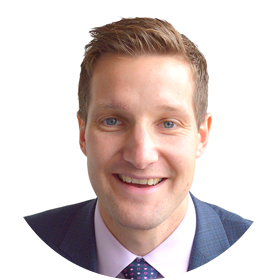 Hugh J Boswell Insurance Brokers
"My Integrity and honesty form the foundation of everything I do as an insurance broker."
Graeme Wooden works closely with all of his clients in order to gain a deep understanding of their business issues. This enables him to devise tailored insurance solutions that deliver true value for money. After all, he believes every business is unique and should have an insurance programme that reflects this.
Graeme shares his views on the insurance industry and what makes him different.

What was your first ever job?

My first ever job was as a paperboy in Mattishall. The best part was that my last delivery was to the next door neighbour; that and the Christmas tips!

How did you get into insurance?

Having been a paperboy for some time and then holding various jobs whilst at college, including greenkeeper, assistant in the Golf Shop at Costessey Park and stacking shelves in Morrisons, I decided to apply for a full-time position. At 17, the key criteria was a job that would not see me work Saturdays so that I could continue to play plenty of golf and football! 
I initially wrote to all the local banks but with no success took a job as Office Junior at a local insurance broker. My father worked in insurance for many years and he always seemed to enjoy it. The rest is history and 13 years later I am still working in the industry and loving it!

What's the most rewarding part of your job?

Ensuring that businesses are correctly protected. A big part of what I do is to really scrutinise what a company would do following a significant loss, and once this is established we can ensure appropriate business interruption insurance is provided to the organisation. 
This is a key cover that we see so many brokers get wrong either in terms of the basis of cover, limit of indemnity or generally the correct financial project. This is the cover that will ensure people have a business to go back to following a significant loss and it is rewarding to know I have made this possible, often when we are talking about a life's work or family business that has been long established.

Is there anything you don't insure?

The only thing we don't tend to insure is big ships and planes, anything else we can typically provide solutions for.

What makes you different from other insurance brokers?

The quick answer here is my honesty. I really work hard to be completely honest with my clients and open their eyes to how the insurance industry operates. I also pride myself on the level of technical expertise I hold and significant time invested in communicating with my clients. The better I know them and their business the better I am able to help them and ensure the insurance programme is competitive but most importantly suitable for their needs.
I am also quick to tell people/clients if I cannot help or it is bad news. Too often I hear clients or prospective clients tell me that they have had their time wasted by brokers, in that they have provided lots of detailed information to the broker only to not hear back from them. If I am unable to help I will tell a client at the outset. I feel I have built my reputation on these key principles/values.

What do you like doing outside of work?

I have a three-year-old son who keeps me busy and I love playing around with him and reliving my own childhood. I also enjoy playing golf and am a keen runner clocking up on average 20 miles a week.

What made you join The People Kit?

I was approached by another member of the kit – he advised that he had found it extremely worthwhile and that it had really aided him in his work with his existing customers.

What do you feel are the benefits to companies or individuals about using The People Kit?

I feel the benefits to people using The People Kit are that typically they may already trust/work with one of us and in turn take real comfort from that person recommending a fellow professional. Everyone with The People Kit is really passionate about what they do and in helping people, in turn going the extra mile and ensuring competitive and affordable services.

Who do you work most closely with in The People Kit?

It has to be David Field of Milne Marketing Ltd. Health & safety and insurance go hand in hand and it is a natural crossover for us both. I have always found both David and Milne extremely professional and only ever received positive feedback from my own clients – in turn reflecting well on myself and Hugh J Boswell.
You can contact Graeme Wooden on 01603 727651 or by using the form below.