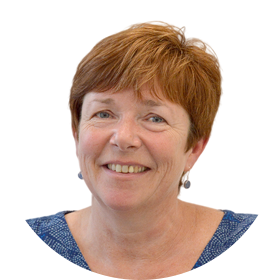 "I love the process of meeting clients for the first time and discussing what they're looking to achieve, then watching the project develop from an idea on a piece of paper to an actual finished product."
Pippa Redmond runs Norwich Print Solutions with her husband, and between them they have over 60 years' experience in the field. Their fast, high quality service is the ideal way to maximise the impact of your business' printed communications.
01603 430730  or  07766 900098
Pippa shares some interesting tales from her lifetime in the printing industry – from the Prince who caused havoc to the two-week reception job that decided her destiny.

What was your first ever job?

I have always been in print – in fact, this is only my second job!
I joined my parents' printing company in London when I was 18, and worked my way up from a secretary to the managing director. I worked there for 26 years in total. Our client base was made up of design agencies, and we were renowned for our high quality B1 litho printing.

Did you always know you wanted to take up the family trade?

No, not at all! In the school holidays I used to work at the family business to earn some pocket money. I'd make up plate bags or stuff envelopes – I never got paid very much and didn't enjoy it. So when I left school I vowed I wasn't going to go into printing. I applied to join the Navy, but they said I was too young and to come back when I was 18.
I didn't know what to do with myself then. My parents thought I'd benefit from leaving home and packed me off to finishing school in Switzerland for a year. I hated the first few months, then grew to love it. When I returned a year older I wanted to go to catering college instead of the Navy. But the receptionist at the printing company was on holiday for two weeks and I had to cover for her… the receptionist never came back, so I carried on working there and the rest is history.

You run Norwich Print Solutions with your husband – has he always been a printer too?

I met my husband, Mark, when he joined our company to do an apprenticeship in the reprographics section. The director of reprographics then bought out that part of the business, and it became a separate company. But we were still all based in the same building, and the new set-up meant that my family's printing company became a client of the reprographics company Mark worked for. It was an interesting time because Mark and I never got on with each other, and we wouldn't speak most of the time. I even put in a complaint about him and said I wouldn't deal with him!
But, 13 years later, we were invited out by a mutual client and, funnily enough, got on really well! From there we ended up living together, getting married, having two children and starting our own business in Norwich, which we've been running for 12 years now.

What's the most rewarding part of your job?

I love being able to take an initial concept and bring it to life. I love the process of meeting clients for the first time and discussing what they're looking to achieve, then watching the project develop from an idea on a piece of paper to an actual finished product.
And of course having happy customers is great too. We're delighted when we receive testimonials because we make customer service a priority, and strive to be the best in our field.

What's the most common thing customers come to you about?

We produce a lot of roller banners, leaflets and stationery. We also print digital and litho, and have two large format printers for all our poster, panel and exhibition graphics. Plus we do branded corporate gifts – we can brand over 2,000 items, so every day is different.
We're about to launch Redmond's which we hope clients will want to use. It's our luxury range which will include packaging, stationery, and a high-end branded corporate gifts and events service.

We hear you've recently bought new printing technology – tell us more.

Yes, you heard correct! We've invested in new printing machinery to produce even better quality. And we now have a lot more finishing equipment which means we can do more in-house, so it's a faster turnaround and cheaper for our customers. It means we can offer same or next day delivery, because we don't need to rely on outside services.

What's the most challenging thing you've ever printed?

It was a book we produced for the Prince of Dubai, when the first ever Formula 1 race circuit was built there. It was so complex, with handmade papers and real leather bound covers. It involved every print process you can imagine and the delivery date couldn't budge. We produced a limited run of 250 brochures for the Prince himself, to hand out to his honoured guests on the day of the race. There were also 1,000 copies of a lesser version for him to hand out to the less important guests, and a folder to house them.
It was all printed and at the book binders when we had a call to say that one of the sections couldn't be used because it had a photo of a previous winner drinking from a bottle of champagne, which was forbidden. We had to supply new files really quickly and reprint and replace the section. It got so complicated and stressful that our production manager left and the project also cost us a lot of money. But wow, it was a beautiful brochure!

What good causes does Norwich Print Solutions support?

We support a lot of different causes in the community including the Air Ambulance, Theatre Royal Norwich, Nelson's Journey, East Anglia's Children's Hospices, Marie Curie, and Norfolk Food & Drink. We've just produced tickets for an event for a deaf charity, free of charge. It's a regular occurrence for us because we feel very strongly about supporting charities, particularly the small ones!
If we can't do things for free, we give registered charities a discount of up to 30% off.

Tell us something about yourself we might not know.

I was the first ever female Young Master Printers chairman – that's part of the British Printing Industry Federation. When I was chairman in 1975, it had been going for over 100 years, so it was quite a breakthrough for women in print and a very proud moment for me.

What made you join The People Kit?

Norwich Print Solutions often works in partnership with other service providers so it was a natural progression to join an organisation which is dedicated to its members working in conjunction with one another.

What do you feel are the benefits to companies or individuals about using The People Kit?

Quality and trust! All the members of The People Kit know and trust one another so when a company uses one or more of us, they know that we are all committed to delivering an outstanding service.

Who do you work most closely with in The People Kit?

Anna from Stevenson Consulting and Daska from CRC. At Norwich Print Solutions, we often work with companies to develop their brand, so we create the design and print, Anna manages the PR, marketing and copywriting and Daska at CRC completes the picture by creating a fabulous website. It is the perfect team! That said, we have worked with many of the kit as they each offer outstanding expertise in their field and we are always very confident when recommending them.
You can contact
Pippa Redmond
 on
01603 430730 or 07766 900098
 or by using the form below.