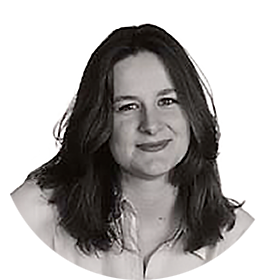 "I love helping clients to create a website which reflects a business they are proud to show the world."
Daska Davis owns CRC, a full-service marketing agency based on the North Norfolk coast. With expertise across brand design, content, website development, search engine optimisation and conversion, we are able to help clients with all aspects of their print and digital marketing.
Combining Daska's background as a journalist and a career specialising in magazines and publishing, with her husband's experience in advertising, publishing and global branding, CRC is not lacking in skills! We learn more from Daska…

How did you get into what you do today?

I trained as a newspaper journalist and started life in Fleet Street before jumping ship into the magazine industry, and latterly customer magazine publishing. All of these jobs included marketing experience and, along with my husband, Matt who worked in advertising, publishing and global branding, we launched CRC in 2014. Today our team includes web development, SEO and CRO expertise enabling us to help our clients with all aspects of their traditional and digital marketing.

What was your first ever job?

Following stints at the Daily Mirror and Sunday Express, my first 'proper' job was as editor of PPA, the association for UK magazine publishers, where I was subsequently promoted to director of communications.

What do you love most about your job?

Meeting and working with a fantastically varied range of clients across a spectrum of sectors and services. I never fail to be amazed and impressed by the talent and creativity to be found in Norfolk.

What's the most challenging part of your job?

Fitting it all in! Like most of us, we tend to be juggling 24/7.

What's the most rewarding part of your job?

The moment a client receives a copy of their magazine or print in hand, or sees their new website go live – we're always as proud as they are of the end result after many hours of creative effort and finessing.

What makes you different from other web designers?

We offer a complete service under one roof – from brand and design, content creation, site development, SEO and ongoing incremental refinement. We tend to work with clients on an ongoing basis, so it's not just about building a site and walking away. Our starting point is the end user – who will use your site and what do they need to find in 30 seconds or less? This helps to shape a site which delivers results from the get-go.

What are you most proud of?

Building a team of experts who take pride in delivering a professional service that moves clients forwards.

What are the top two things on your bucket list?

Driving coast to coast across the USA in a decent RV… and driving a tractor – at least one of those is realistic, living in North Norfolk!

What made you join the People Kit?

I was flattered to be asked to join by Anna Stevenson of Stevenson Consulting who is without doubt one of the nicest and most brilliant people we've had the privilege of working with. She recommended The People Kit and we were delighted to support them with the development of this website and to work with the group.

What do you feel are the benefits to companies or individuals about using The People Kit?

Without doubt, the knowledge that everyone in the group provides a highly professional and effective service, often in partnership, which will provide the best results for our clients.

Who do you work most closely with in The People Kit?

Anna Stevenson of Stevenson Consulting, and we are developing a good working relationship with Pippa Redmond of Norwich Print Solutions who are one of the most creative and attentive printers we have ever worked with.
You can contact
Daska
 on
01485 533064
 or by using the form below.